Featured Guest
During our recent travels, we met a couple of very different artists, both of whom we liked very much, and with one very important thing in common – genuine sweetness. They inspired us to start a new monthly section in the Salon featuring the art of our favorite sweethearts. We hope you will enjoy it.
NANCY CALEF
Nancy Calef was born in the Bronx and lives in San Francisco, but she's a citizen of the world. She's a painter and sculptor with a style and world-view entirely her own. Her imagination is boss. Like Nancy herself, this original work is delightful, full of stories, humor and irony.

The People's Poet Laureate -- Jack Hirschman, oil, sculpture, mixed media on canvas, 30" x 40"

The Supremes, 36" x 48", oil on canvas, 2004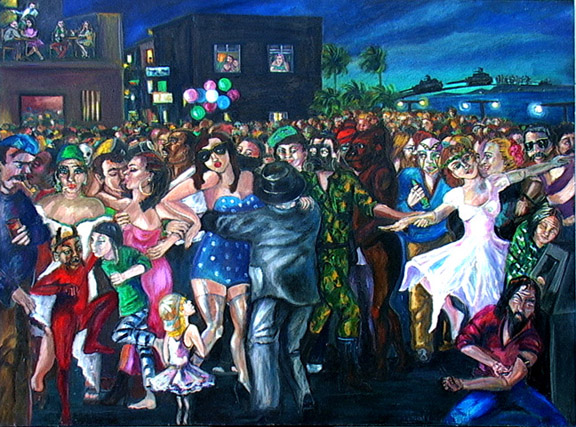 CNN, 36" x 48", oil on canvas, 1991
(This painting was created during the Gulf War. I originally wanted to make a Mardi Gras scene, but the war started and I integrated tanks and people with gas masks, etc. Not much has changed in 14 years! –NC)


Video Still from "Lost My Mind Again" (4 min)
Music & Lyrics by Nancy Calef
Directed by Jody Weiner
Performed by Nancy Calef, Mark Kessler, Jody Weiner
Animation & Paintings by Nancy Calef
Music produced by Mark Kessler
The video can and should be seen on
http://nancycalefgallery.com

Nancy's work is also seen on the book jacket
for Prisoners of Truth by Jody Weiner.

Looking Up, 48" x 36", oil/sculpture
and mixed media on canvas, 2002